Save Money by 'Structuring' Your Oil or Gas Lease Bonus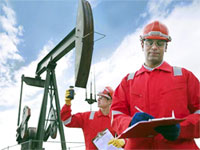 With the country's energy demands evolving, domestic mineral exploration is on the rise creating financial windfalls for many landowners. In addition to potential royalties, most landowners receive an upfront bonus payment. These one-time payments can be quite substantial, but they almost always catapult the landowner into the highest possible tax bracket for a single year. It's not uncommon for taxpayers to discover they are required to pay 50% of their bonus to the government in taxes.
Reduce Your Tax Liability
With a Structured Oil & Gas Lease Bonus Payment Option, landowners can take advantage of IRS Revenue Ruling 68-606 by spreading out a bonus payment over a number of years. By 'structuring' your bonus, you can:
Reduce your tax liability keeping more of what you are being paid;
Earn pre-tax interest accumulation to be paid in the future according to a schedule you choose;
Design a customized payment plan to meet a variety of anticipated future needs including retirement, college for children or grandchildren, and even future anticipated purchases (cars, homes, vacations, etc.).

You can rest assured knowing that all future payments are guaranteed by a highly rated company, and there is absolutely no cost to you. No out of pocket expense and no management fees…ever. We get paid by the company if and only if you decide this option makes sense for you.
Three Things to Keep in Mind
In order to take advantage of tax benefits, the bonus must be 'structured' BEFORE the land lease is signed.
This option is available for your Bonus Payment Only. Future royalties are not eligible.
Actual value to you will depend on what assumptions you make about future tax brackets. We can help with your analysis.

.
Because a Structured Oil & Gas Lease Bonus Payment Option is a detailed process that must be handled by a properly licensed firm such as ours, it is critical to let the landman and/or your attorney (if represented) know that you are considering this option. We will then need to interface with all parties throughout the process to ensure proper paperwork is completed.
Contact Dan Finn Today
If you've been offered a bonus from oil and gas explorers during lease payment negotiations, don't wait until everything is settled. Now is the time to contact Finn Financial Group to find out how we can help you. Phone: 800.531.7466 E-Mail: [email protected] CA Insurance License: 0A96173 Licensed in all states where oil & gas exploration is occurring. The information on this web site is not intended to provide legal or tax advice. Various tax codes and regulations can be complex and clients are encouraged to seek independent legal and tax counsel.